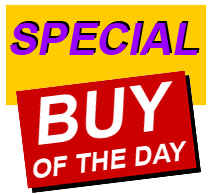 Buy of the Day DVD
#8966 Shadows
- From the Jerry Yarnell Inspiration of Painting video series. 55 minute instructional dvd (done using Acrylic paints on an 18 x 24 canvas - beginner level). This video is a detailed lesson on how to paint shadows correctly. An essential dvd for all beginner painters!
Note: "Buy of the Day" dvds come in a lightweight paper case instead of our regular plastic case.
GOOD NEWS! We are now offering our "Buy of the Day" video on DVD or Digital Download. There is NO shipping charge on our Digital Downloads! When you buy the Digital Download you will be emailed a link to Download your video (your Download link will be emailed to you within 24 hours - but it usually only takes an hour or two, depending on the time of day your order is received). Please be sure your Email Address is correct when filling in your Checkout information!
Buy of the Day
Product Code: #8966 Shadows - Buy of the Day
Availability: In Stock